International transfers
Send currency abroad more affordable than in a bank

Many countries, many possibilities
Pay for foreign trips and hotels
Send currency to foreign customers
Send money to your family

International transfers' prices
The transfer cost depends on the currency and the target country as well as transfer type
0 zł
for transfer in euro to 33 countries
or 1 zł if you make more than 5 transfers monthly and used your limit
EUR

9 zł
for transfer in other currencies to 42 countries

50 zł
for transfer to 25 countries outside the Europe
PLN
EUR
USD
GBP
CHF
CZK
DKK
NOK
SEK

20 zł
for transfer in other currencies to 42 countries

PLN
EUR
USD
GBP
CHF
DKK
NOK
CZK
SEK

Are you interested in other international transfer options?
Check international transfers' prices in the schedule of fees and commissions
Why is it worth to send currency via Walutomat?
Attractive exchange rates
Accelerated transfers more affordable than in a bank
Convenience and security
Friendly customer service
Simple and easy-to-understand price list – the transfers cost depends on the amount you send
How to make an international transfer?
2
After selecting the amount you want to deposit, you will be able to choose the payment method. When we receive your transfer, it will be book to your "Wallet". Next step is to exchange deposit for another currency.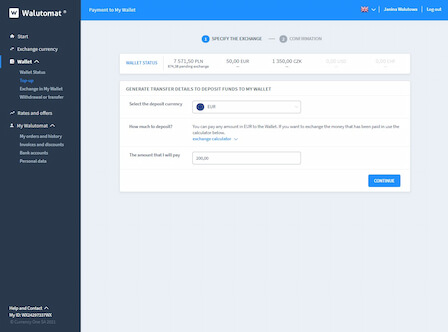 3
Exchange currencies in the "Exchange in the Wallet" tab.
4
Go to "Withdrawal or transfer" tab, choose the recipient's account and the amount you want to transfer.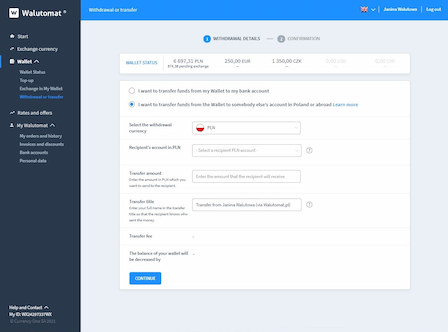 We show below how to add a recipient's account.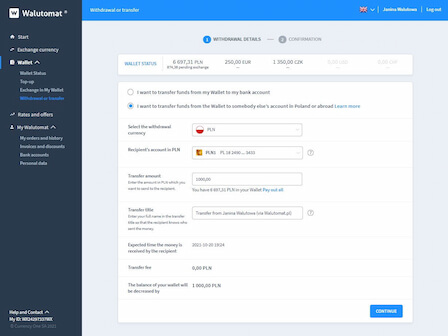 5
Confirm the withdrawal and you're done! The recipient will receive the money soon.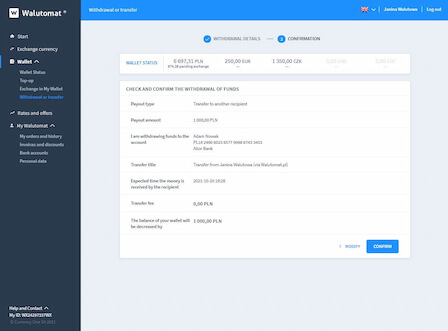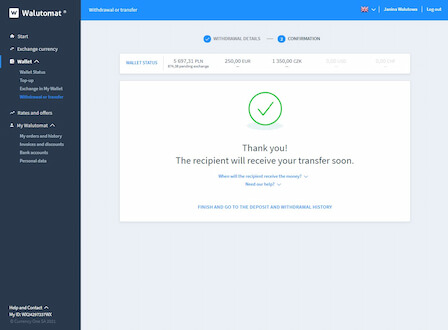 More information in the frequently asked questions section.
Discount voucher for new customers!
Enter your email address and we will send you a 50% discount code
for the commission on your first exchange.
Please enter a valid email address
The email address you entered is not available
Tick your consent to data processing
An error occurred. If it keeps happening, please contact Customer Service
Receive an e-mail!
We have sent you an email with a 50% discount code for the commission on your first exchange! Click on the link in the email and register to use the discount.